Chianti e San Gimignano Grand Tour (GT-BUS)
---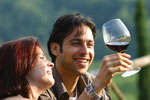 The beautiful ruby color and distinctive fragrance with notes of violet are the distinguishing marks of the identity of the product among the most famous wine in the world: Chianti.
Taste the refined product in one of the best wineries in the area to accompany the wine tasting of a selection of bruschetta, cheeses and cold cuts.Our expert and witty tour leaders will lead you to discover the beautiful unspoiled landscapes that have been cradling the vineyards of Chianti, presenting you a harmony of colors that only the hills of this region can give.
The sounds, smells and tastes of this land will capture your senses through a unique experience to discover, enjoy and understand by visiting ancient churches, medieval castles and villages where the pace of life remains unchanged. Together, we will enjoy exploring these fantastic scenarios and enjoy their ancient traditions.The tour continues to San Gimignano. The town is one of the finest examples of medieval urban center on Unesco's World Heritage. San Gimignano distinguished by its characteristic towers famous throughout the world located along the Francigena the hills of the Val d'Elsa.
The country also known for its wine, Vernaccia di San Gimignano saffron and the precious pottery of Santa Fina, you will find our eyes leaving everyone stunned by its beauty. Our guide will accompany you to every corner of the country with beautiful squares, palaces, churches and picturesque lanes. After the visit we drive a few miles in a renowned winery where you can taste all wines including Vernaccia di San Gimignano. Tasting is also coupled to a typical dinner of pasta bruschetta, ham and salami.
THE TOUR INCLUDES:
Travel by Bus GT with amplified audio system, air conditioning and all comforts
Experts accompanying multilingual (English-French-German-Italian and Spanish)
Guided tour of several villages, abbeys and castles of Chianti
Tour a renowned winery with tasting of wines, meats and bruschetta
Guided tour of San Gimignano
Dinner tasting of typical products and local wines
Possibility of buying wine at the winery Visits prices. (Shipped in almost all parts of the world)
Stop for photos in viewpoints
Photos of your tour
On request shuttle service from your accommodation to the point of departure of the bus at an additional cost. (No drop off)
DETAILS:
Days: Monday, Wednesday, Friday, Sunday
Departure at 14:30 from Piazza Gramsci faced Bars Lizza
Duration of tour: 6 hours
Minimum number of participants: 1
Price: 38 euros per person
DISCOUNTS:
Children under 2 years travel free when instead of the parent, with BABY-SEAT 50% discount. 2 to 8 years 50% discount. 10% discount for the purchase of another tour