San Gimignano e Colle Val D'Elsa Tour (VAN)
---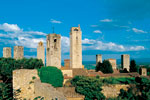 To the north-west of Siena and the hills of Val d'Elsa, stand the medieval town of Colle Val d'Elsa and San Gimignano. Colle Val D'Elsa known worldwide for its production of crystal, called "the Bohemia of Italy" produces almost all of Italian glass.
Creativity and production quality crystalline represent the tradition, beauty and harmony of an art that lasts to this place for centuries. We will lead you to a tour of the most famous crystal place, you will be shown the process of the crystal, where skilled craftsmen create real masterpieces.
Also visit the historical center of Colle Alta, divided into the castle and village, rich in churches and medieval buildings.The tour then continues on to San Gimignano, the town called "a thousand towers" for imposing structures symbol of power and wealth, fourteen of them came up to the days of commercial development nostri.Grazie Via Francigena, traveled throughout the Middle Ages thousands of pilgrims to Rome, San Gimignano has seen a revival due to the economic and cultural revival of its agricultural and craft.
The artistic and cultural treasures that San Gimignano intertwine with the secrets of space in a pot-pourri of smells and tastes that our expert tour leaders will give you the opportunity to taste through a single route. This experience is giving you the chance to appreciate the special beauty of the pottery of Santa Fina and local.
THE TOUR INCLUDES:
Shuttle service to and from your accommodation
Private minivan with every comfort for up to 8 people
Guided tour of San Gimignano
Expert bilingual English-Italian
Guided tour of a famous crystal with demonstration of the manufacturing process of the crystal;
Guided visit of Colle Val D'Elsa
Possibility of buying gifts for local rates, (shipping in almost all parts of the world)
Photos of your tour
DETAILS:
Days: Daily
Departure: 8:30 am from Siena
Duration of tour: 5 hours
Minimum number of participants: 1
Price / Reservations: please ask at reception
Discounts: discounts for groups and families
Promotions: 10% discount per person when booking additional tours